Our Publications: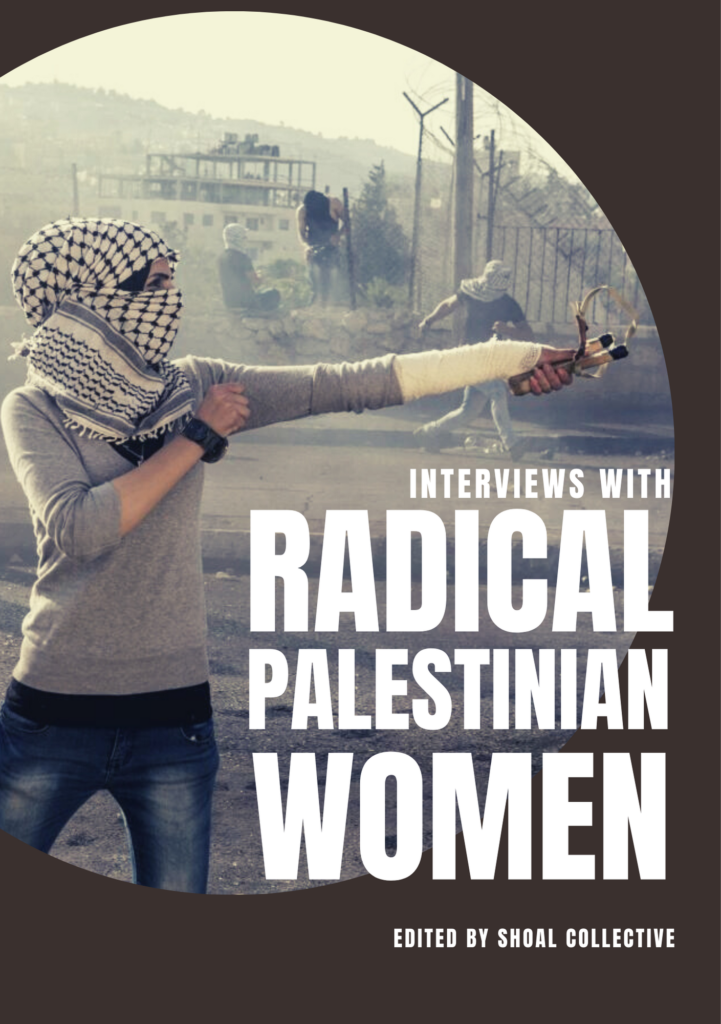 Interviews with Radical Palestinian Women (2021, Published with Active Distribution)
The idea for this book came out of a concern that solidarity movements have a tendency only to engage with Palestinians about their fight against the Israeli occupation. Sometimes this can be a barrier to seeing them as comrades in our intersecting struggles for a better world and against authoritarianism, white supremacy, patriarchy, capitalism and state control.
Between 2018 and 2021 we interviewed ten radical Palestinian women, including:
Shahd Abusalama (Gaza/UK)
Lama Suleiman (Haifa)
Sireen Khudairy (Dheisheh refugee camp, West Bank)
Faiza Abu Shamsiyah (Al Khalil, West Bank)
Mona Al-Farra (Gaza)
Rana Abu Rahmah (Bil'in, West Bank)
Izdihar Afyouni (UK)
Listening to their voices will help people outside Palestine to see the Palestinian struggle in a three-dimensional way, and to better understand Palestinian radicals as allies in our global struggles for freedom.
Buy a copy here (£9 including postage to the UK)
Buy a copy here (£12.50 including postage to the Europe)
Buy a copy here (£15.50 including postage to the North America)
Buy a copy here (£18.50 including postage to the South/Central America, Africa, Asia, Oceania)
Contact us if you have problems ordering via the above links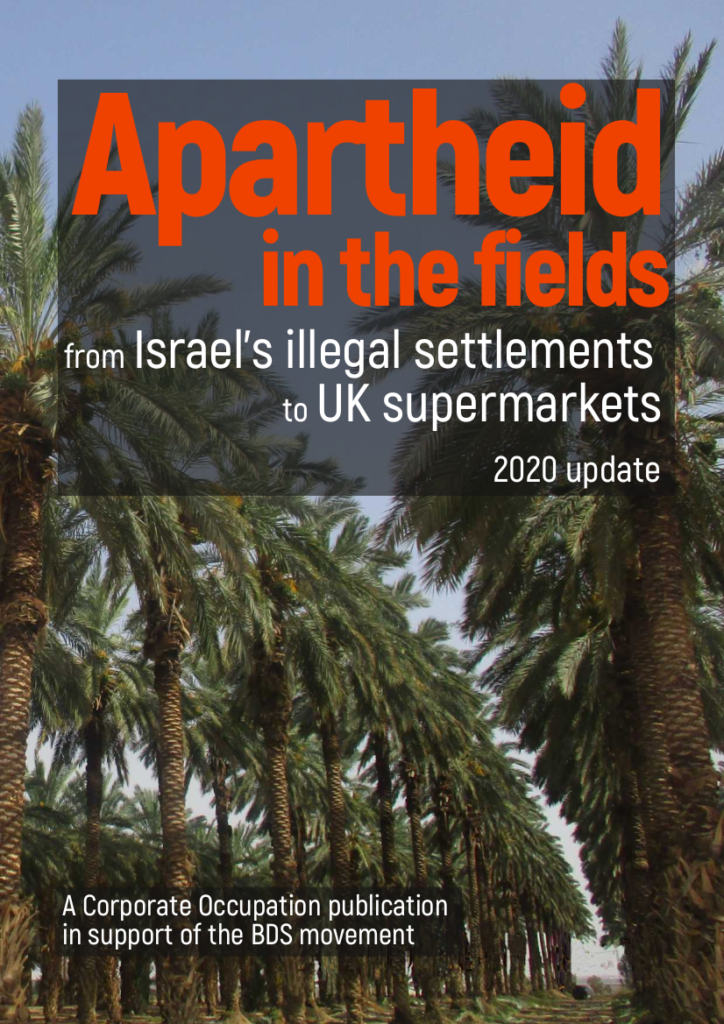 Apartheid in the Fields: From Occupied Palestine to UK Supermarkets (2020)
Corporate Occupation/Shoal has been carrying out in-depth interviews with Palestinian workers and doing undercover research in Israel's settlements since 2010.
This report profiles the companies making a profit out of the exploitation of Palestinians in the Jordan Valley, using child labour, paying below the minimum wage and forcing employees to work in unsafe conditions.
It also focuses on the UK supermarkets selling their products, and highlights how we can take action in line with the Palestinian call for a boycott of Israeli goods.
You can buy a copy of the briefing here.

You can download a copy by clicking here.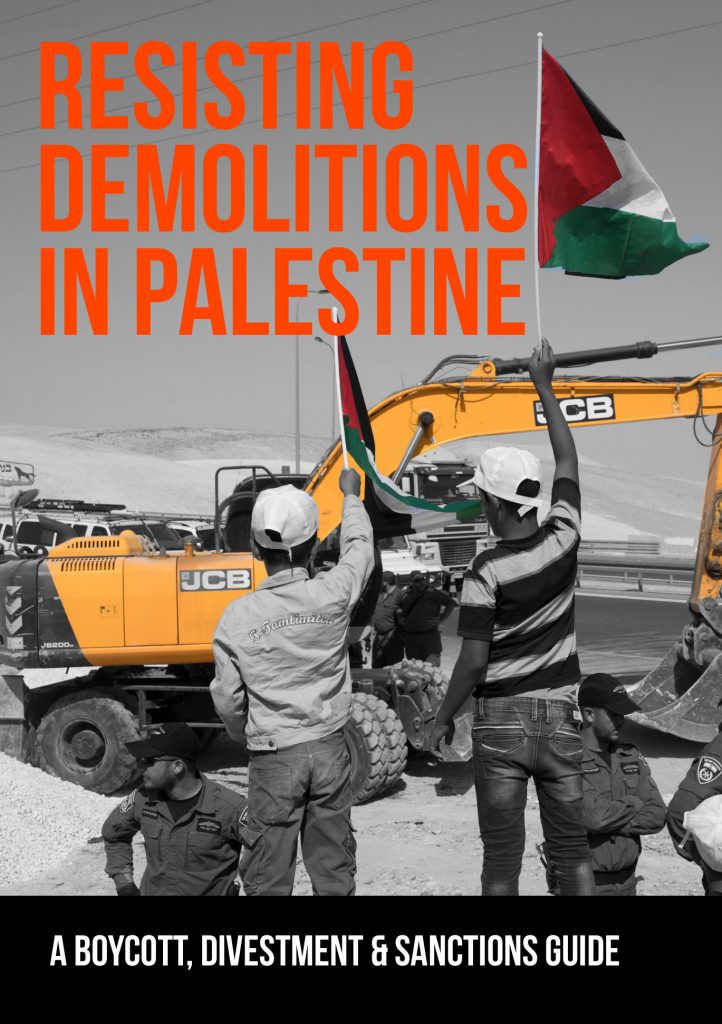 Resisting Demolitions in Palestine (2019)
Israel carries out demolitions of Palestinian homes and property on an almost daily basis. These demolitions are intended to literally wipe Palestinian communities off the map. Ordinary Palestinians are resisting by placing themselves in front of the occupation's bulldozers and by steadfastly refusing to leave their land.
This guide contains information-for-action for activists who want to stand with the Palestinian communities resisting demolitions. We examine bulldozer giants JCB, Caterpillar, Hyundai, Volvo and others, and document their complicity in Israeli war crimes.
You can buy this book from Active Distribution.
To download the PDF, please click here.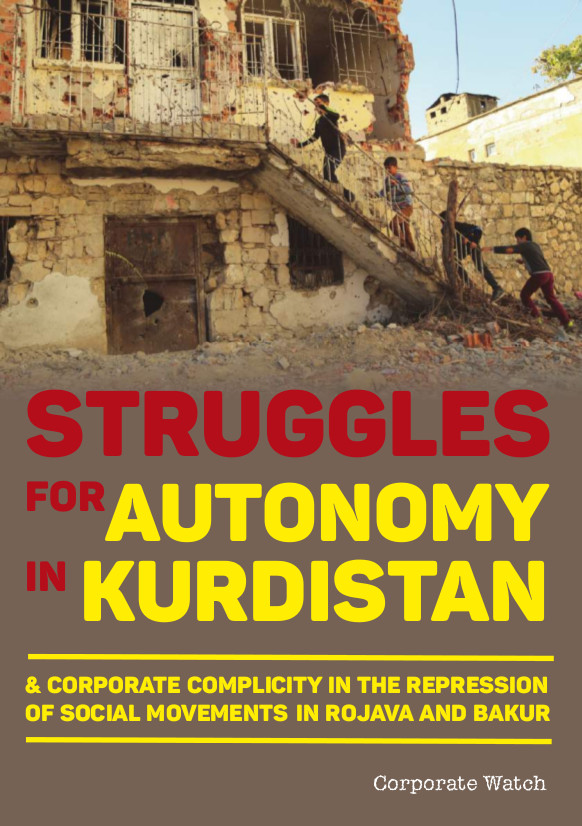 Struggles for Autonomy in Kurdistan (2016)
Kurdistan is currently divided between four countries: Iraq, Iran, Syria and Turkey. In each of the parts of Kurdistan, Kurdish identities and cultures have been repressed for generations. This book gathers together first-hand accounts of the struggles for a new society taking place in Bakur and Rojava – the parts of Kurdistan within the borders of Turkey and Syria.
The setting up of local assemblies and co-operatives, as well as radical women's and ecological movements, are rapidly gathering momentum in Kurdistan. The book gives a simple introduction to democratic confederalism, the idea that has inspired many of those involved in these movements.
The book also compiles accounts from Kurdish people who are oppressed by the state of Turkey and profiles some of the companies that are complicit in their repression. The interviews give suggestions of how people outside of Kurdistan can act in solidarity.

You can buy a copy of the book from Active Distribution.
Imprisoned voices: Corporate complicity in the Israeli prison system (2015)
This briefing collects the memories of the pain, suffering and resilience of Palestinians who have been imprisoned by Israel.
The first part compiles interviews with prisoners from the Gaza Strip. The second part focuses on the West Bank. The final part summarises the companies providing equipment and services that aid the arrest and imprisonment of Palestinians and gives detailed profiles of two of the biggest culprits: G4S and Hewlett Packard.
We dedicate this briefing to all those who remain imprisoned, and to everyone living within the open air prison that is occupied Palestine.
Click here to download briefing.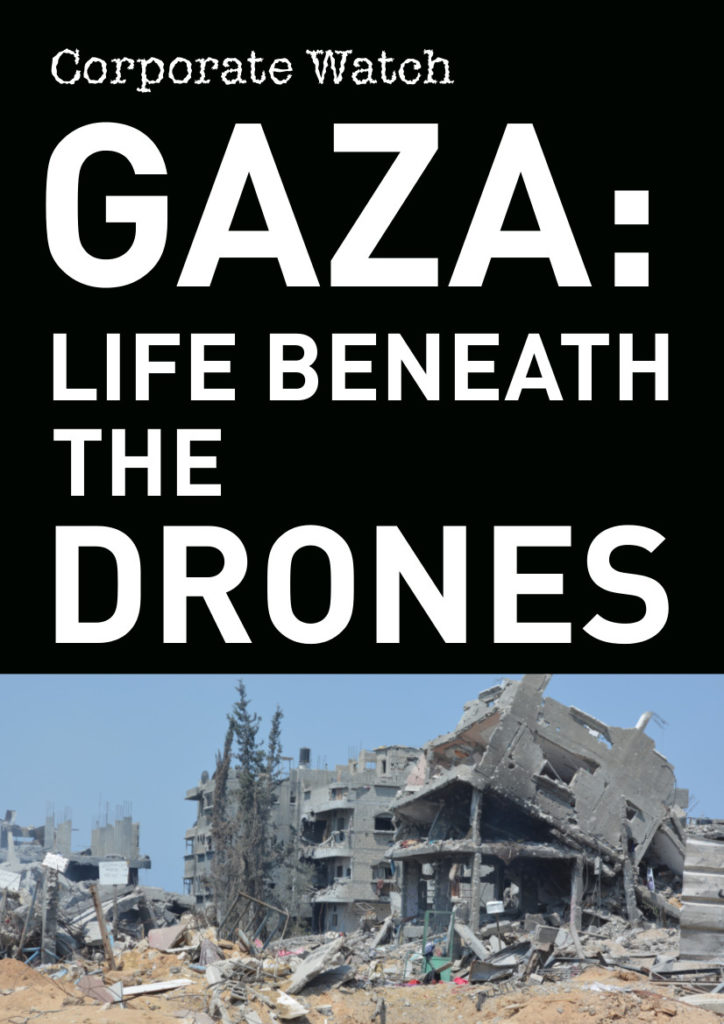 Gaza: Life Beneath The Drones (2014)
Drones have become Israel's weapon of choice in its attacks on Gaza. In 2012 drones killed more people in Gaza than any other aircraft. In Israel's 'Operation Protective Edge' attack, 37% of those killed died in drone attacks.
In 2013 Corporate Occupation visited Gaza for two months to interview the survivors of drone attacks and human rights workers about the effect of living beneath the drones. The interviews tell the story of the survivors and highlights their calls for support from the global solidarity movement.
This briefing compiles the interviews and gives short profiles of some of the companies profiting from Israel's drone wars: Elbit and Israel Aerospace Industries (IAI).
We hope that reading this briefing will inspire you to take action in solidarity with people living under siege in Gaza. As one survivor of a drone strike told us: "We do not need just words".
Download 300 DPI version for printing.
Click here to buy.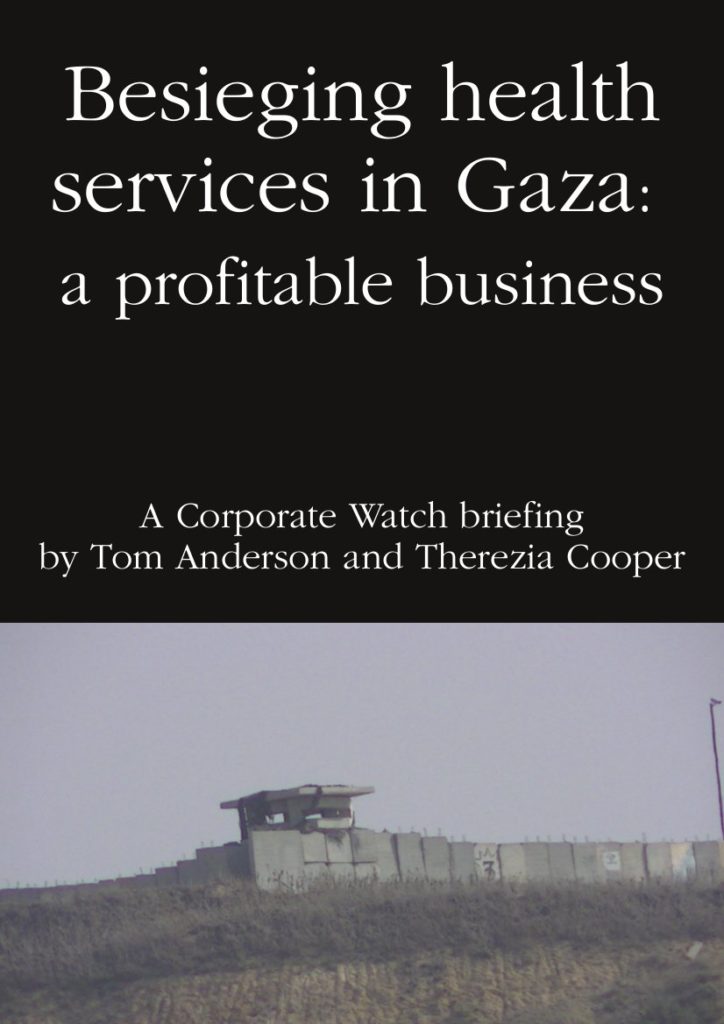 Besieging health services in Gaza: a profitable business (2014)
The Israeli siege of the Gaza Strip prevents the proper functioning of Palestinian health services and the effective treatment of sick patients. At the same time the Israeli economy, and particularly Israeli pharmaceutical and transport companies, benefit from the captive market provided by a population living under occupation.
This briefing exposes how the Israeli economy profits from the siege of health services in Gaza and highlights calls from Palestinian health workers to boycott Israeli pharmaceutical companies.
Targeting Israeli Apartheid: A boycott, divestment & sanctions handbook (2011)
Taking its cue from the unified Palestinian call for Boycott, Divestment and Sanctions (BDS) against Israel, Targeting Israeli Apartheid examines the Israeli economy and details the Israeli and international companies complicit in Israeli state repression.
Based on original research in Palestine, the book shows how these companies can be targeted and provides the international BDS movement with the information necessary to bring the Palestinian struggle to the doorsteps of those who profit from Israeli apartheid.